Welcome Back! We've missed you.
Student Life
Student Life is here to make coming back to campus just that little bit easier
Details
Getting back into the books after a sweet mid-year break can be a struggle, but Swinburne Student Life is helping you kick-off Semester 2 with a bang. Join the good vibes at Welcome Back Week and start your semester off right.
Monday 5 and Tuesday 6 August, 11:30am – 2:30pm
John St & the Atrium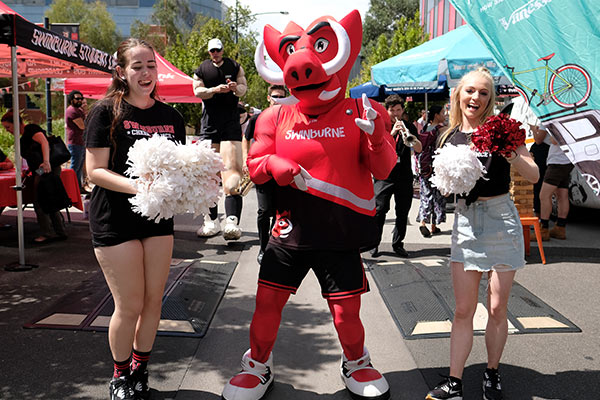 Free food, Sumo Wrestling, Giant Snow Globe and more!
Hungry? Treat yourself to a mouth-watering feast at the Food Truck Fair brought to you by Swinburne Student Life. You'll find a variety of cuisines ranging from Greek to Italian, Lebanese, Indian and more. And it's all free for students!
Have your cameras at the ready, as there will be no shortage of opportunities to fill your Instagram stories with a Sumo Wrestling station, and a giant Snow Globe to get in and experience your own Winter Wonderland. There will also be a spot to make yourself your very own Razor badges and a Fly Trap Velcro Wall so grab your mates, suit up, and get stuck into all the action at Welcome Back Week.
You can also try your luck at Razor's Spinning Wheel for your chance to win free merch. And, who knows, you might even run into your favourite red feral pig…
What will you be eating?
Monday 5 August
Mary and a little lamb – Mini Souvlaki (Chicken, Lamb or Falafel)– V & Halal options
The Gozleme Station – Gozleme – V, DF & Halal options
Yo India – Curry (Butter Chicken, Lamb Korma or Lentil Curry) – V, GF & Halal options
Tuesday 5 August
Pizza Forno – Mini Pizzas (Margarita or Hawaiian) – V & GF
Wrap Roll It – Banh Mi (Pork, Chicken or Tofu & Mushroom) – Vegan, DF & Halal options
Twista Bros – Fried Potato – Vegan, GF, Dairy Free, Halal and Kosher options
Clubs Day
Wednesday 7 August, 11:30am – 2:30pm
John St & the Atrium
Keen to try something new this year? Joining a club at Swinburne is a great way to meet likeminded people, discover new experiences and fill your social calendar with a bunch of cool activities throughout the semester.
If you're not sure what clubs spark your interest, Clubs Day is an awesome opportunity to discover the variety that Swinburne has to offer. Get creative with the Swinburne Design Collective, discuss the art of a plant-based lifestyle with the Swinburne Vegan Society, get your game on with the eSports club, or try your hand at archery with the Swinburne Archer's Club. From sport to cultural and social clubs, there's something here for everyone.
Every club available at Swinburne Student Life will be on campus at Clubs Day, so get around and join all the things!
Get ahead of the pack and register an account before Clubs Day to speed up the joining process. Simply scroll to the top of this page, click 'Register' and follow the prompts. It'll only take a 'sec!